About Us
At École Curitiba, we are passionate about providing an exceptional educational experience for our students. We believe in nurturing young minds, fostering their curiosity, and empowering them to become compassionate and responsible global citizens. Our school is dedicated to creating a stimulating and inclusive learning environment where students can thrive academically, socially, and emotionally.
Founded in 2005, École Curitiba has become a leading educational institution in the beautiful city of Curitiba, Brazil. Our name, "École," which means "school" in French, reflects our commitment to offering a holistic and international approach to education. We combine the best of both Brazilian and international educational practices to provide a well-rounded education that prepares our students for the challenges of the modern world.
Our dedicated team of educators is at the heart of our school. Highly qualified and experienced, our teachers are passionate about their subjects and deeply invested in the success and well-being of each student. They inspire and motivate students to develop a love for learning, critical thinking skills, and a desire to make a positive impact on society.
At École Curitiba, we offer a comprehensive curriculum that meets national and international standards. Our curriculum is designed to provide a balance between academic rigor and the development of essential life skills. We strive to foster creativity, collaboration, and independent thinking, ensuring that our students are well-prepared to face the challenges of a rapidly changing world.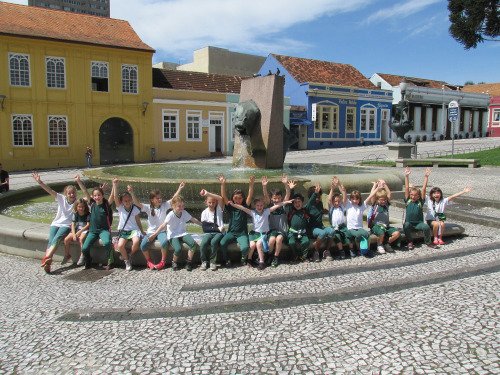 We value diversity and promote a multicultural environment within our school. We believe that understanding and appreciating different cultures and perspectives is essential for building global citizens. Our students have the opportunity to interact with peers from various backgrounds, enhancing their cultural awareness and empathy.
Beyond academics, École Curitiba offers a wide range of extracurricular activities to enrich the student experience. From sports and arts to community service and leadership opportunities, we encourage our students to explore their passions and develop well-rounded personalities.
We are committed to sustainability and environmental consciousness. Our school actively promotes eco-friendly practices and instills in our students a sense of responsibility towards the planet. We believe that educating the next generation about environmental stewardship is crucial for creating a sustainable future.
We also believe in the importance of parental involvement and collaboration. We encourage open communication and foster strong partnerships between our school and parents, recognizing the valuable role they play in their child's education.
Thank you for considering École Curitiba as the educational home for your child. We invite you to explore our website, visit our campus, and get to know our vibrant community. We look forward to embarking on an inspiring educational journey together, empowering your child to achieve their full potential and make a positive impact on the world.